How Does A Strong Life Inspire You?
Finding balance for optimal well-being and overall health and wellness, in your everyday life.
We are Brian and Melinda Lopp, founders of A Strong Life (ASL). We have had a passion for health and wellness for over 16 years, and have realized through life's lessons, that health and wellness is really about balance in one's life. It is the integration of mental, physical and spiritual well-being – literally, a mind, body and soul connection – that most don't value. We at ASL believe that an individual must address the various elements within each of these 3 components in order to achieve true balance in life. Acknowledging this on a personal level over the last 8 years has led us to want to share with others all that we have learned and experienced… it was only a matter of time before A Strong Life took root and gave us a greater purpose.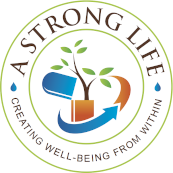 Brian Lopp is a former NASM Certified Personal Trainer, former ACE Clinical Exercise Specialist and former owner of FitnessRx in Danbury CT. Presently, Brian is a Certified Nutritional Consultant through the American Association of Nutritional Consultants and Certified Personal Life Coach through Fowler International Academy.
Because of Brian's vast knowledge of biomechanics and post-rehabilitative work, he was highly recommended by various physical therapy departments in the area for phase 2 & 3 outpatient rehabilitation. His extensive background proved beneficial for his own needs, when in 2007, Brian had a motorcycle accident which left him in the SICU for over a month. Suffering a traumatic brain injury and extensive damage to major organs and bones, Brian had a long road to recovery ahead, and utilized his knowledge of post-rehab work, along with sound nutrition, to heal his body.
A non-believer in pain medication, Brian recovered using natural alternatives. This had a profound impact on his desire to help others achieve their goals, no matter what their circumstances – hence the desire to become a Life Coach. Brian uses his knowledgeable background and credentials to bring a holistic approach to help others heal themselves. Contact us for more information.
Having worked for over 20 years in corporate America, Melinda faced a road to recovery of her own. In 2008, six months after Brian's motorcycle accident, Melinda suffered a panic attack. Turning into a full-fledged panic disorder, with several attacks a day, as well as suffering from severe anxiety, depression, with a diagnosis of PTSD, doctors turned to pharmaceuticals to treat her.
With Brian's urging, and a mutual dislike for pharmaceuticals, Melinda explored treatment with whole foods, sound supplementation, and regular exercise. Seeing such rapid improvement, Melinda was able to stop taking most medications and continued with a more holistic approach, adding guided meditation, EFT work, and neurofeedback. She now utilizes a variety of natural alternatives and is off all medications.
Melinda left the corporate world behind in 2012 to focus on their 3 children and growing wellness center, where she shares her passion of natural alternatives to those in need. Currently she is pursuing her Holistic Health Practitioner Board Certification through the American Association of Drugless Practitioners, focusing on Dietary Wellness, Healing with Whole Foods, Natural Therapies, Herbal Therapies and Subtle Energy Therapies. Contact us for more information.