Our clients are always asking us what supplement line we use to stay so young, fit and healthy.

There is not an easy answer to this as we don't find one company that encompasses everything. But we DO stick to 5 main ones that we whole-heartedly believe in:
AdvoCare, Bulletproof, Modere, Vega and Dr. Gundry.
In simplest terms, AdvoCare gives us our day-to-day nutritional support. We utilize their Spark energy drinks, Coreplex, Omegaplex, Probiotic Restore, Fem 40, Catalyst, Rehydrate, Fibotrim, and Carbease.
From Bulletproof, we start our mornings off with a Cold Brew (which I actually heat in the microwave for 2 minutes), as it's already prepared. We also enjoy their collagen bars, Unflavored Collagen Protein, Brain Octane, XCT Oil, Charcoal Activator, to name a few. Bulletproof is known to follow the intermittent fasting approach and the Keto diet.
From Modere, I use the Sync, Sustain, Trim (I love the chocolate so very much), and the Liquid Biocell. Modere is known to follow the Mediteranean diet.
From Vega I use the Protein & Greens in my post-workout shake with almond milk, PB Fit Powder, and a banana which is what pushes me through my workout looking forward to it! Vega is known to follow the vegan diet. I personally use it to avoid milk proteins which can aggravate my stomach.
From Dr Gundry, we use Prebio Thrive, Vital Reds, Heart Defense, Lectin Shield (as with my fibromyalgia I find nightshades hurt my body so when I can't avoid them, like tomatoes because I'm Sicilian! – I take this), and Untox. Dr. Gundry is simple wellness.
Last but definitely not least is AdvoCare, which we have taken as a family for around 19 years! We LOVE their products, as do our kids. Their products are what has kept us looking so young and healthy. Our products with them are too numerous to list, however, we will tell you that we couldn't live without their Fiber, ThermoPlus, Catalyst, Spark!!, Rehydrate, Calcium + D3 (I take this for my migraines and it really helps keep them at bay), Joint Promotion, Prostate Support, Formula W (absolutely has kept me from having ANY hot flashes while dealing with perimenopause), Coreplex with Iron, OmegaPlex…. The list truly goes on.
Please reach out to us personally to see what we recommend for you, if you're interested in any of these lines and products.  We are happy to help!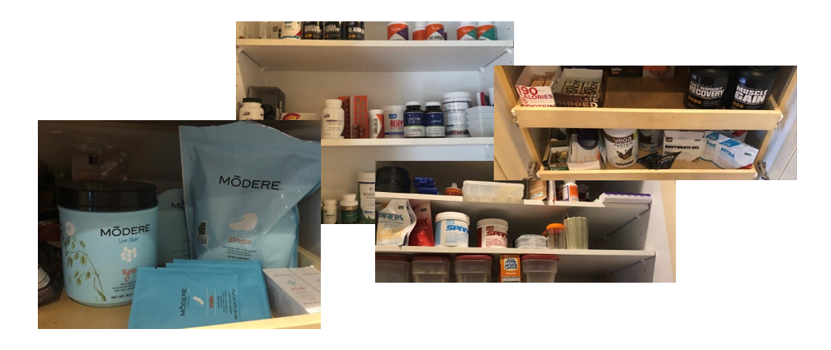 As you can see we "walk-the-walk" of what we recommend…
SHOP OUR FAVORITE BRANDS!